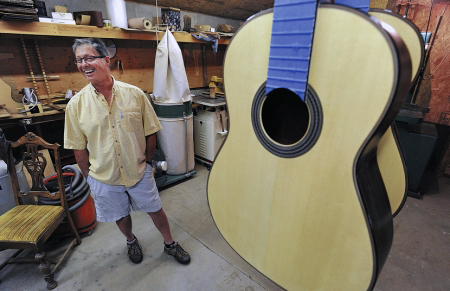 08 Sep

"For the Love of the Wood" – Article on James White Guitars

http://worksgmbh.de/?tag=montage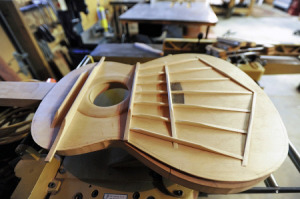 James White doesn't just build classical acoustic guitars — each of his creations is filled with his blood, sweat and tears.  He offers something you can't pull out of a box or off an assembly line.
can i buy Pregabalin in canada
"Every guitar is a piece of me," White said.
The 60-year-old Victor, Idaho resident began crafting guitars from exotic woods some 40 years ago. During that time, the luthier has built 56 guitars, each of which takes an average of 200 to 300 hours to complete. His custom guitars have been purchased by musicians from Idaho Falls to Brazil.
Although White's guitars sell anywhere from $5,000 to $8,000 each, depending on materials used and design specifications, he said he's not in it for the money. He puts his weathered hands to work nearly every day purely for the love of the instrument.
Idaho Falls musician Pat Burns had White build him a guitar 23 years ago. He said it's like nothing he's ever played. At the time, Burns was looking at Gibson guitars, which many consider some of the best-made guitars on the planet.
"The first time I picked up one of (White's) guitars, the first thing I noticed was the sound, they resonate more," Burns said. "I thought it was better than any Gibson by far. His guitars really perk the ears up."
White said he started playing guitar when he was 18. He was in Bend, Ore., at the time, about three hours away from his hometown of Portland. His love for building guitars didn't bloom until a year later, when a car accident changed his life.  "I went to California with a buddy of mine to buy a guitar," White said. "On the way back, we got into a really serious accident. My new guitar broke and my friend was killed."
White's parents recruited Portland-based luthier Jeffrey Elliot to repair their son's guitar. After learning that Elliot was looking for an apprentice, White became his protégé.  "I wasn't doing anyhing but getting in trouble," White said. "I knew I liked wood and I knew I liked guitars. The only experience I had was woodshop in high school."
White and his brother, Kenneth, apprenticed under Elliot for nearly three years. The brothers learned the ins-and-outs of guitar making under the tutelage of a luthier whose guitars have been featured in the Smithsonian's Renwick Gallery in Washington D.C.
In 1981, White decided to put aside making guitars to take a job in Wyoming's oil fields.
"My buddy said, 'Let's go make some money out in the oil patch,'" White said. "But that didn't last long, I decided my fingers were too important to me."  So, White put his knowledge of wood to use and found a job at a lumber yard in Sheridan, Wyo. That's where he met his wife, Kim. Later, they moved to Victor, where their son, Dylan, now 20, was born.
For years, building guitars was something White loved. But he couldn't pursue it full time.  The death of his brother in 2004 caused him to re-examine the craft.  "I always wanted to get back into building guitars," White said. "When Kenneth died, it kind of inspired me to do so. I think about him every day when I am out here working."  White built his guitar shop in 2006. He was working in a local lumber yard at the time.
"I was building guitars to sell while I was working," White said. "I started gaining notoriety when I started going to luthier conventions, spending my vacations on the road."
White showed his guitars at conventions in both the U.S. and Canada. Word of his craftsmanship and the quality of his instruments began to spread. Eventually, classical guitarists began hearing about White and his work.  In 2007, White began building guitars as a way to make a living.
"The economy went flat and so did my job, that's when I started building guitars full time," White said. "I haven't even looked for a job since."
Dylan White said working as a full-time guitar luthier revitalized his dad.  "He really started getting his passion back," he said. "It's all he talks about and what he really loves."
White spends nearly every day building guitars.
He's currently working on an eight-string acoustic guitar for Douglas Lora, a New Jersey-based guitarist who plays in the group Brazil Guitar Duo, which tours the world playing classical Brazilian guitar.
Last October, White gave a presentation on guitar building at the Museum of Idaho's "Guitar: The Instrument That Rocked The World" exhibit.
White believes guitarists seek him out because each of his instruments is unique.  "It's personal for me," he said. "I choose the wood with the customer and everything is customized. I love doing that, that's what it's all about."