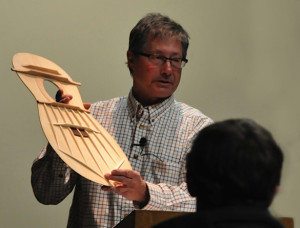 "Attention to detail on the inside of each guitar is every bit as important to me as the craftsmanship and beauty that you see on its outside."
For over thirty years I have worked to master the craft of creating the perfect combination of form and function that makes a collection of wood, bone and steel so much more than the sum of its parts.  As a Luthier, I know that every decision I make along the way affects the overall sound, tonal balance, and playability of a guitar, that is why the very last thing I do before setting the back into place is to give it my stamp of approval by hand signing my name and the name of each individual guitar on the inside.
This journey began for me in 1977 when Luthier Jeffrey R. Elliott, internationally renowned for his exquisite classical guitars took me under his wing inspiring and guiding me, patiently and graciously sharing his wisdom and closely held secrets of building and repairing fine classical and steel-stringed instruments. Over the years I have finely honed my technique and craft evolving my own unique designs, methods, and style.  My classical instruments are deftly responsive, insanely articulate, subtle yet commanding, and easy on the eyes.
---
"Ultimately it is our collaboration, the collaboration between luthier and musician that holds the key to creating "Your" perfect guitar."
---
Sharing our ideas, experience, and talent, together we create something unique and enduring that inspires you and brings out the best qualities of your playing style and technique.
– Jim White
Like My Facebook Page
–