29 Jul

Black Dog Finds a New Home in California – Testimonial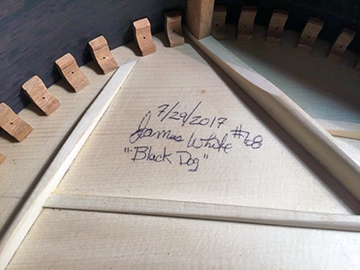 I Love receiving feedback from clients and it makes me feel wonderful to know that their new guitar (and one of my babies) will be well cared for and loved in their new home!
Cindy Serway was visiting Montana this summer and had the opportunity to play my small-sized jumbo steel-string guitar "Black Dog" at Music Villa in Bozeman.
Once she returned home to California Cindy dropped me a very nice note with these kind words about "Black Dog".
"I purchased your Black Dog Guitar at Music Villa in Bozeman yesterday. I cannot express how excited I was to find an instrument that played like this one. It was as if it were made for me. It almost feels like it can play itself. The neck, the string spacing everything is perfect! The tone and sustain is amazing. Thank you for building such a gorgeous instrument. It will be well cared for and played!"

God Bless,
Cindy Serway